SQL Governor and Soaring Eagle Database Consulting announce a partnership to reduce business hardware, software and resource expenses for companies with large databases and Microsoft SQL Server estates.
How would it sound to save money while allowing your IT and DBA staff to focus on what matters the most?
SQL Governor and Soaring Eagle Database Consulting have formed a partnership to combine their database products and expertise to make it a reality for companies with large databases.
The coordinated partnership provides assessment, advisory, monitoring, mitigation and life cycle management services aimed at performance improvement, and risk and cost reduction.
How does it work?
Soaring Eagle brings its proprietary Flight remote database reporting system and consulting services.
SQL Governor contributes its advanced software

for Microsoft SQL Server performance monitoring, optimization, and capacity forecasting in a secure, scalable, agentless architecture.

Combined, SQL Governor and Soaring Eagle's FLIGHT tools allow companies to manage the full life cycle of their SQL Server environments.

Soaring Eagle's Remote Management Database Service can be added to supplement expertise or the people to carry the grunt work load so your DBA's and developers can work on growing your business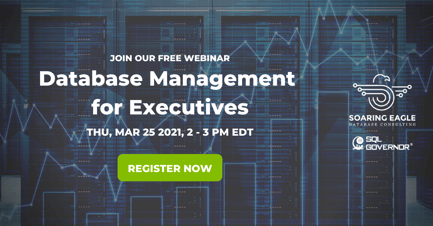 Register for a free webinar
Learn more in our free webinar on March 25: Database Management for Executives. In the webinar we will learn the importance of capacity planning and cost optimization in SQL Server migrations.
Data accuracy is everything
Businesses rely on and invest heavily in the accuracy and security of data in operations, decision making, and compliance. To perform well, data and systems must be maintained properly.
As a result, companies use software applications to track, diagnose, and address data issues. With database management and related technology handled in an efficient and scalable architecture, the organization's developers can concentrate on other priorities including growing the business.
Better performance and cost savings for Microsoft SQL Server
The Microsoft SQL Server is widely used in the computer and IT industry as well as in healthcare and finance, primarily in the U.S., according to Enlyft. About 200,000 companies use this type of server to store and retrieve data.
Our joint effort focuses to streamline the
relational database management especially in the heavily regulated sectors of healthcare and financial services, in which Soaring Eagle specializes as a remote database managed services provider.