Are you planning to transfer your IT infrastructure to Azure cloud? Do you need to modernize your on-premise data platform or renew your SQL Server versions? Do you need to migrate your SQL estate due to company merger or change in data center? Is managing your data platform getting more complex due to too many, scattered servers?
A very common approach is to just "lift-and-shift" the servers and workloads from old to new servers. Although this is often simple and fast, it does not help to "clean the house". With some additional attention to planning, the data platform migrations offer a golden opportunity for gaining significant optimization benefits. It's also crucial to be able to forecast and manage the future growth needs. By planning the modernization or migration in a smarter way, you will avoid surprises in capacity, cost and time.
We are teaming up with Soaring Eagle Consulting to bring you an exciting new webinar about tackling the challenges with Microsoft data platform capacity planning!
Join our webinar to learn how you can benefit from applying the new capacity planning methods that solve the challenges of manual planning or the simple "lift-and-shift" approach. We will show how to utilize software automation with machine learning and forecasting functionalities to improve the efficiency of planning the new platform – and gain significant cost savings.
Learn how you can benefit from applying new capacity planning methods
The webinar will address issues related to capacity planning, how to prepare for migration, and show concrete demo cases. You will also learn how you can achieve significant cost savings by applying these methods.
We will go through:
Challenges of traditional capacity planning
Reasons for migration – opportunities for efficient consolidation and cost savings
How capacity planning affects to platform performance
How to prepare for migration

Importance of diagnostics and performance optimization
What to take into account in Azure transitions

Demo case

Planning the consolidation of SQL Servers from multiple servers into a single VM in Azure cloud
Planning the consolidation of multiple SQL Servers into a single Host pool in on-premise virtual platform
Potential for cost savings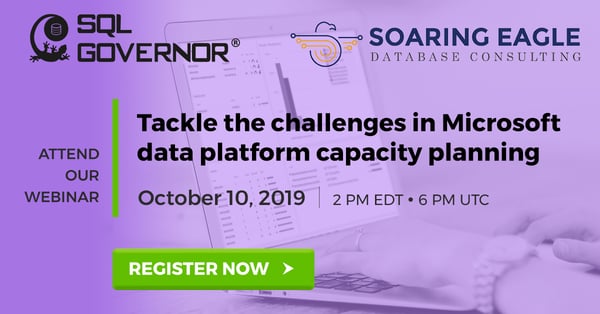 Tackle the server migration challenges and find new solutions by attending the webinar on October, 10
Soaring Eagle Consulting will be hosting a special webinar together with us on Thursday, Oct 10, 2019 at 14:00 EDT / 18:00 UTC.
Webinar speaker Jani K. Savolainen is the Founder & CTO of SQL Governor and the inventor of the product. For the last 19 years Jani has worked with databases and Microsoft SQL Server technology. Jani has extensive experience on e.g. software development, DW/BI, data science, SQL data platform, diagnostics & code optimization, and writing crypto graphical algorithms.
We have joined together in a strategic partnership with Soaring Eagle Consulting to address the growing challenges inherent with the optimization of Microsoft data platforms. Soaring Eagle Consulting has over 25 years of experience in remote database management with a specialty in healthcare and financial enterprises. Soaring Eagle works with SQL, Sybase, Oracle, and other relational databases and is led by a hand-picked team of DBAs who each have 20+ years of experience tackling front-line challenges.